ANEMAN
ANEMAN is a ground-breaking technology that makes networked audio devices connect seamlessly with each other.
ANEMAN is a flexible technology that can be used for audio patching, control and much more. It joins up the patching of media streams, remote control of devices, and control and configuration of the network itself.
Developed by Merging and Digigram, it has already been adopted into many RAVENNA-enabled products.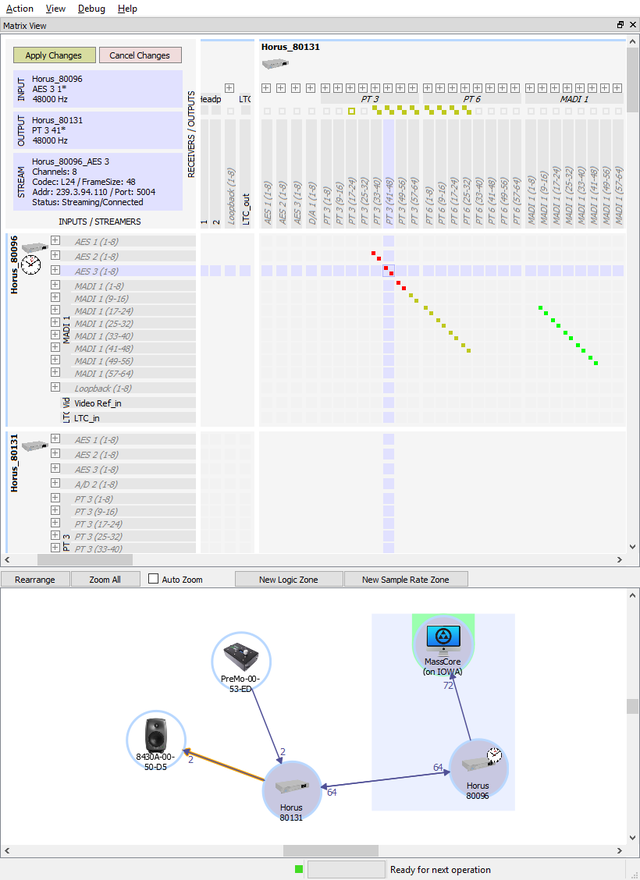 When you connect ANEMAN enabled products onto a network, you can patch audio streams between them with just one click.
More features are being added to ANEMAN all the time. On the road map are features such as pre-amp gain control, AES70 support, infrastructure monitoring and improved security.
ANEMAN is a technology that lets compatible devices communicate with each other on a network.
A compatible plugin makes the device visible to ANEMAN, so others can connect and control.
With AMEMAN you connect the Inputs and Outputs of the devices, you do NOT have to worry about the streams. ANEMAN will optimise the network for you, RAVENNA style.
ANEMAN software is a free program to let you manage devices, but this capability can also be incorporated into products or manufacturers own software, to save you opening up a specific patching program.
In addition to the free version, an enterprise version is available for users, with additional features and support.    
You can freely adopt ANEMAN into your products. You simply write a plugin for your product. One manufacturer wrote the necessary code in just one week.
However, it is more likely that you will want to participate in the program to continue ANEMAN development and therefore have your plug in automatically distributed to users via the ANEMAN plug in manager, include icons for your device in the software, and be part of the overall marketing activity for the technology.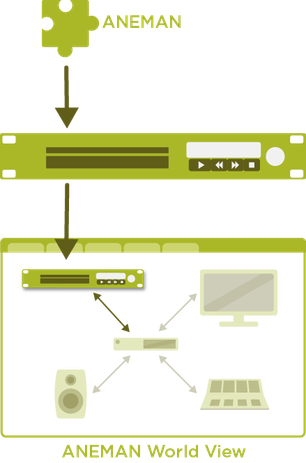 As well as being a fully featured technology with many enabled products and two versions of configuration software, ANEMAN is an evolving technology.
If you write a plug in for ANEMAN then your product can be seen on, and controlled via, the network. It becomes part of the ecosystem. This will increase the capabilities of ANEMAN as it evolves and as adoption increases.
 
ANEMAN FREE
ANEMAN

ENTERPRISE

Cost
Free
 Contact for Details
Mac & PC Compatible
Yes
Yes
Works with all ANEMAN-enabled devices
Yes
Yes*
View different logical zones
Yes
Yes
One click patching of audio streams
Yes
Yes
Zone devices by sample rate
Yes
Yes
Support
Via forum
Yes
Access to specific plugins
No
Yes
Design your own interface for your workflow**
No 
Yes
Integrate into complex IT infrastructure***
No
Yes
Redundancy
No
Yes
*Additional features may be available
** EG  control GPIOs, one page web app, integration into a scheduling software etc
*** Save data in database, connect to credential system like active directory etc…
Merging
Hapi – Networked audio interface
Horus – Networked audio interface
Merging OS-X VAD – Ravenna/AES67 virtual audio device for Mac
Merging ASIO Driver - Ravenna/AES67 virtual audio device for Windows
NADAC – Networked audio interface
Digigram
LX-IP – PCIe Ravenna & MADI interface card
IQOYA *SERV/LINK - Multichannel IP Audio Codec
IQOYA *LINK  - STEREO IP AUDIO CODEC
IQOYA *LINK/LE - STEREO IP AUDIO CODEC                   
IQOYA *CALL - FOR IP AUDIO REMOTE BROADCASTING
IQOYA *CALL/LE - FOR IP AUDIO REMOTE BROADCASTING
DirectOut
Genelec
8430A-IP – Audio over IP studio monitor
Cymatic Audio
U-Track 24 – Multitrack recorder, player and interface
Archwave
uNet mini – RAVENNA and USB network audio card
uNet compact – RAVENNA and USB network audio card
uNec standard – RAVENNA and USB network audio card
Ward Beck
32ME-N  - multichannel audio monitor and converter
AMS2-N – network monitor speaker
PREMO-A1 – microphone preamplifier
Networked Mic Stand